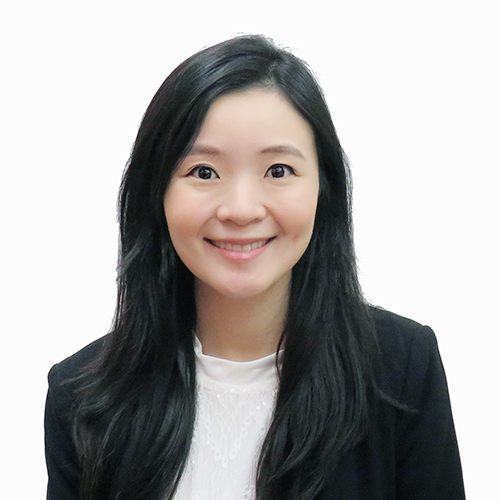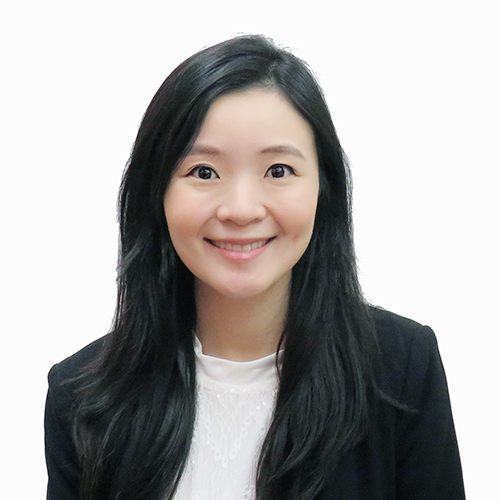 Vivian Lee
Founder
Ms. Vivian is the founder of Viv's Schoolhouse. She believes that strong early foundations are essential in nurturing confident and curious learners beyond just the early years; these foundations will pave the path to future development and set the right attitude towards lifelong learning.
After extensive studies on different pedagogies, Ms. Vivian regards experiential learning as the most effective way to educate children. She believes that when children are taught using a hands-on approach, they will be wholly engaged in their learning experiences. Children's different senses are involved during such a learning process where their sense of sight, hearing, taste, smell, and touch are stimulated. This results in the strengthening of neural connections in children's brains and allows their learning experiences to be anchored in firmly in their minds. Most importantly, children find greater joy and meaning in the knowledge that they acquire when learning through experience.
Ms. Vivian holds a Bachelor of Science degree from the University of Michigan, Ann Arbor and a Diploma in Early Childhood Care and Education – Teaching from Seed Institute.
Ng Su Han
Principal
Ms. Su Han is the principal of Viv's Schoolhouse and has more than 16 years of experience in the Early Childhood industry thus far.
Ms. Su Han is best known for her patient and caring nature when it comes to nurturing children and grooming educators alike. She believes that to inspire the best in every child or educator, she has to lead by example and to always have an open heart and mind. Because of the respect and trust she pours out, children and teachers feel empowered to learn, grow, and strive for betterment everyday.
Possessing a growth mindset, Ms. Su Han is always exploring different ways to enhance children's learning journeys. From fostering collaborative relationships with families to creating new experiences, it is paramount to Ms. Su Han that we continually challenge ourselves to do better for our children. By always pushing through new frontiers, she does her best to ensure that teachers keep abreast with the latest early childhood developments and children are therefore given a meaningful and fun-filled schooling experience.
Ms. Su Han holds a Diploma in Pre-school Education – Teaching and Leadership from Ngee Ann Polytechnic as well as a Certificate in Certificate in Infant and Toddler Care and Development from KLC International Institute.
Lee Sok Meng
Curriculum Specialist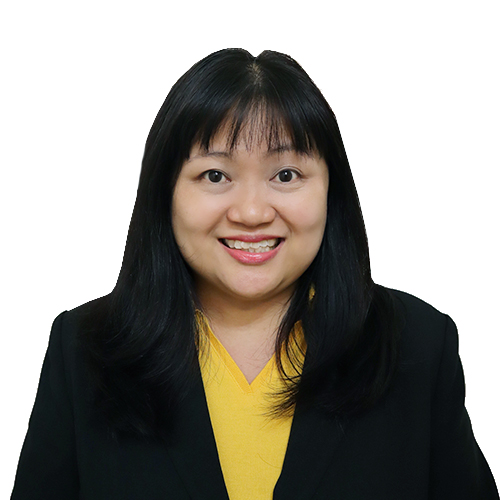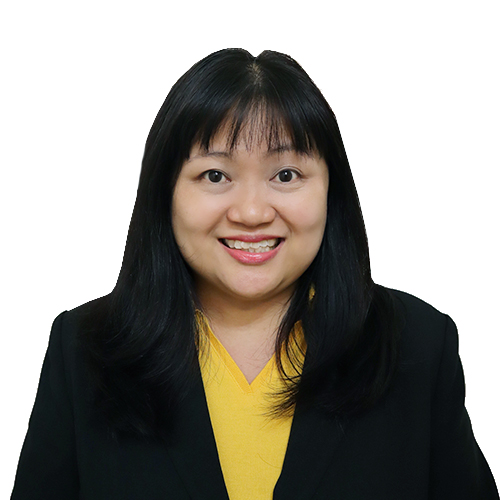 Lee Sok Meng
Curriculum Specialist
Ms. Sok Meng is the Curriculum Specialist of Viv's Schoolhouse. With more than 20 years of experience in the Early Childhood industry, Ms. Sok Meng is best known for her ability to engage children in all the different domains of learning. She believes that it is critical for children to build strong foundations in their early years so as to get a strong head start in their journeys of lifelong learning. Besides having solid academic footings, Ms. Sok Meng also places a strong emphasis on children's character development, resonating the school's vision of nurturing children who are passionate as well as compassionate.
Ms. Sok Meng holds a Specialist Diploma in Pre-school Education – Leadership and a Diploma in Pre-school Education – Teaching from International Centre for Early Childhood Education, as well as a Diploma in Montessori method of education from London Montessori Centre.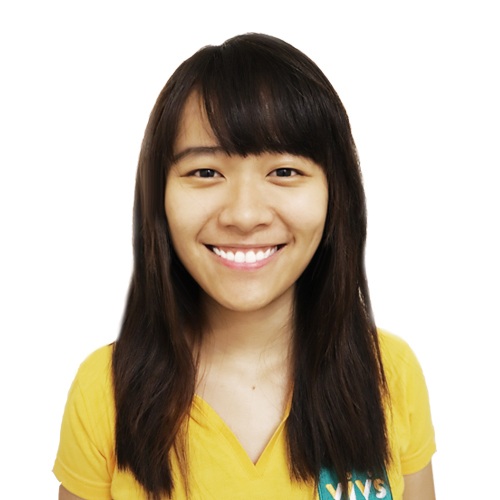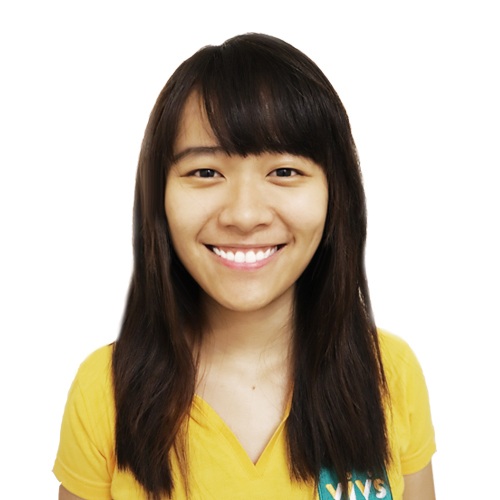 Candice Kuer
Teacher
Teacher Candice believes that as an early childhood educator, it is of utmost importance that she models right and positive behaviours for her children. With the knowledge that children learn by observing and taking in things around them through their five senses, it is therefore all the more important to be a beacon of light for her little ones. Teacher Candice is an advocate of using positive words and affirmation when communicating with children; she is best known for her patient, kind, and gentle disposition regardless of any situation.
Within her classroom, teacher Candice always strives to create a safe and respectful environment. It is pertinent that all her children feel emotionally secure and will thus be motivated to learn freely and openly. She believes that it is only with a trusting bond established with her little ones can she then help them realise their fullest potentials.
Teacher Candice holds an Advanced Certificate in Early Years.
Geetha Janardanan
Teacher
Teacher Geetha has a decade of experience in the early childhood industry and is a patient and nurturing teacher. She believes and respects the individuality of each child and truly embraces each of their unique traits. In our fast-paced and increasingly competitive society, children's childhoods have sometimes been replaced by expectations to excel. However, Teacher Geetha believes that children should always be entitled to the right to be children and to have a childhood that they deserve. Hence, she is always finding ways for children to have fun and to be thoroughly engaged in every lesson.
Teacher Geetha takes pride in designing classroom spaces that are interactive and developmentally appropriate. Children can thus look forward to expressing themselves creatively and exploring safely everyday. In doing so, not only will children will be learning continuously, Teacher Geetha will also be challenging herself to grow alongside every child.
As Margaret MacMillan said, "the best classroom and the richest classroom is roofed only by the sky". This is something that resonates profoundly with Teacher Geetha and she is committed to helping her children reach their fullest potentials.
Teacher Geetha holds a Bachelor's Degree in Early Childhood Education from Auckland University of Technology.
Joleena Yoong
Teacher
Teacher Joleena believes that children are innately inquisitive. Hence, she makes it her mission to fuel their love for learning and be a pillar of support to them and their families. Whether it is designing fun teaching academic materials or supporting children's emotional needs, Teacher Joleena strives to approach each child and situation with passion and compassion. In doing so, it is her goal to nurture children to becoming better versions of themselves everyday.
In addition, Teacher Joleena also places great emphasis on children's values and moral education. From lessons about responsibility to lessons about interpersonal respect, she believes that children are only well-rounded individuals if they learn how to treat one another as well as carry themselves with strong ethics and moral ethos.
Despite years of experience with young children, Teacher Joleena still sees everyday as a learning opportunity. As she strives to teach children about life, she often finds that children are the ones who show us what life really is about.
Teacher Joleena holds a Master's degree from James Cook University.
Judith Tan
Teacher
Teacher Judith believes that it takes a big heart filled with compassion and patience to nurture our little ones. In our children's growing up years, they grapple with new territories and learn how to manage big emotions – that's a big feat! Hence, it is ever so important that as educators, we acknowledge and address our children's concerns even in every possible way.
Teacher Judith can always be observed listening intently to what children have to say, encouraging them to speak up; she is truly our children's best friend and mentor. Through the many ways that Teacher Judith spreads positivity within the classroom, children flourish into curious and confident learners.
Teacher Judith holds a Fundamentals Certificate in Early Childhood Care and Education.
Louise Tan
Teacher
Teacher Louise believes that aside from academic excellence, it is also extremely important that children understand and appreciate the need to have the right moral ethos. She nurtures in our children qualities such as mutual respect, compassion, and patience. Teacher Louise believes that having a right set of values is important for children's life journey ahead as these will keep them grounded throughout all the challenges, obstacles, and milestones they will face in years to come.
At the heart of it all, teacher Louise believes that love is the key element when it comes to nurturing young hearts. To provide our little ones with an education that is exciting, engaging, and fun, teacher Louise embraces three vital ingredients: sincerity, passion, and grace!
Teacher Louise holds a Diploma in Early Childhood Care and Education – Teaching.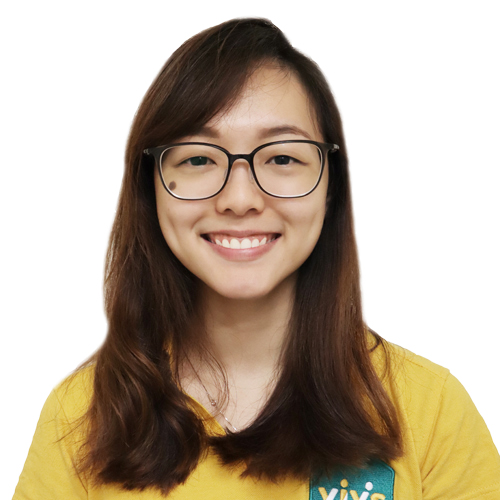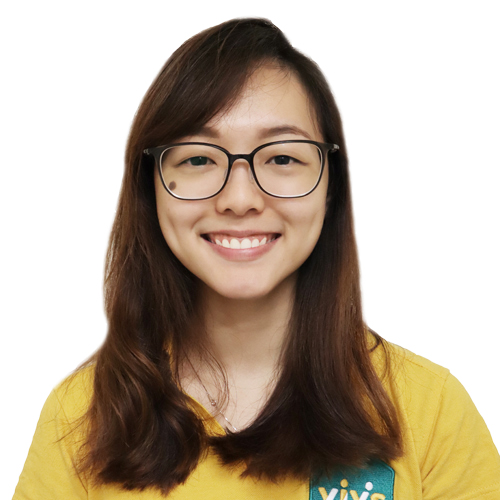 Patricia Sng
Teacher
Teacher Pat believes that children have different personalities and it is therefore pertinent to recognize and embrace children's unique learning preferences. This is evident in her flexible approach when it comes to teaching; teacher Pat always ensures that she adopts strategies that are best suited to the needs of her little learners.
With the vision that children should be given the opportunities to realize their fullest potentials, teacher Pat strives to create a safe and conducive space for them to learn and grow. She believes that the learning environment needs to be inclusive, supportive, and creative. Throughout children's time in school, they should be guided to pick up practical life skills and be endowed with positive dispositions towards life-long learning.
Teacher Pat holds a Diploma in Early Childhood Care and Education – Teaching.
Regina Tan
Teacher
Teacher Regina is a passionate, nurturing, and enthusiastic Early Childhood Educator. She believes that children learn best through play because children are most receptive to taking in new knowledge when having fun!
Teacher Regina believes that children are intrinsically curious and eager to learn. Therefore, in order to spur children's enthusiasm and thirst for knowledge, she always injects excitement and fun in everyday lessons. It is no wonder why children always love coming to school since they can always look forward to a fun-filled time!
Besides creating a safe and fun learning environment, Teacher Regina also advocates for strong values and morals. She believes that respect and kindness is of utmost importance in early childhood education especially since it is during these early years that strong foundations are being built.
Teacher Regina is best known for her immense attention, care, and patience to our little ones. Through all the ups and downs, she is thankful for the opportunity to play a part in our children's pivotal years and takes on every challenge with a smile!
Teacher Regina holds a Diploma in Early Childhood Care and Education - Teaching by National Institute of Early Childhood Development (NIEC).
何淑盈
中文老师
何老师认为:孩子像花儿,园丁需要用爱关注每一位孩子。坚信每朵花都是独立的绽放,富有自己绚烂的色彩。教师需要细心,耐心地发现幼儿身上特有的色彩并给予相应的灌溉:用心感悟每个孩子,永远用欣赏的眼光看孩子,用宽容的心态面对孩子。何老师坚持呵护孩子的奇思妙想,耐心地等待孩子的点滴进步,让他们能更好地书写美好地未来!
何老师含有幼儿保育和教育 - 教学文凭。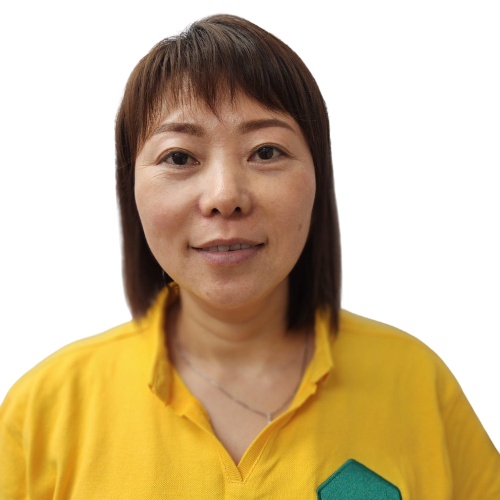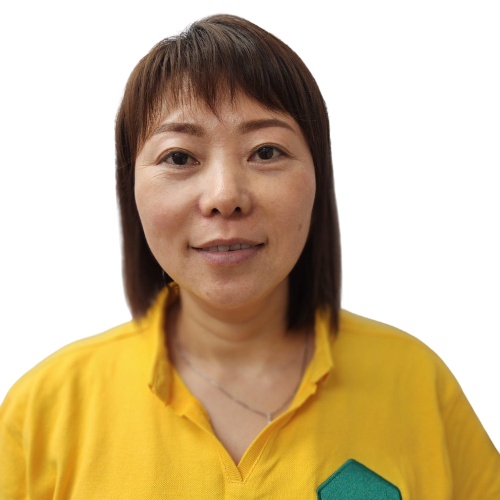 李金凤
中文老师
凤老师认为幼儿园是幼儿成长中新的起点,我们用爱养育,用心教育,秉承育人为本,服务为先,因材施教,
培养孩子,自尊,自爱,自信,自强,自然,成长。每个孩子的天赋都是不同的,需要挖掘潜能,发现天赋。
凤老师相信每个孩子都应该获得百分百的关注和机会!她想要让每个孩子拥有快乐和自信。在充满爱与自由的环境中,让每个孩子成为独特的自己。
凤老师含有幼儿保育和教育 - 教学文凭。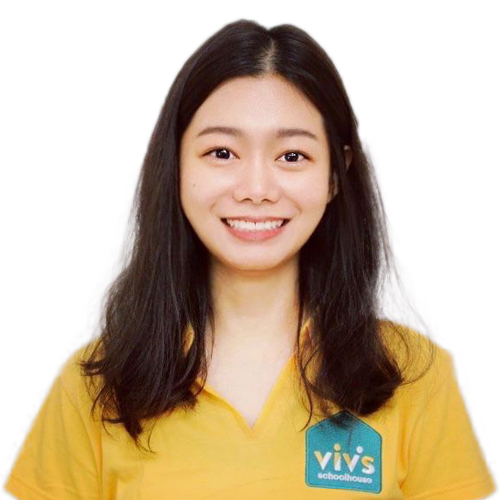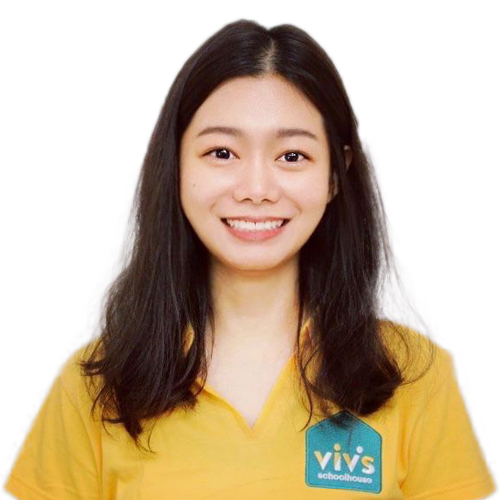 吕瑾婷
中文老师
吕老师相信,孩子的教育不局限于课本上所学到的知识,而是源于爱、和平、喜乐、忍耐、恩慈、良善、温柔、信实和节制的浇灌。老师就像陶匠人,孩子则像容器;陶匠人以真诚、热情和爱,陶造出特别而贵重的器皿。吕老师相信,在孩子的教育过程中,不断地鼓励,以爱、包容和接纳的心对待孩子,进而帮助孩子发现自己的特别之处,踏上明亮的阶梯,茁壮成长。
吕老师含有幼儿保育和教育 - 教学文凭。
张巧瑞
中文老师
张老师认为:作为一名幼教华语老师,我们要关爱、欣赏、支持、鼓励每一位孩童。不管孩子们是在跟老师与同伴互动中或是通过学习材料与校园环境的互动中,身为老师,我们都要让孩子们快乐地学习中文。
每一位孩子都是一粒独特的种子,他们都有自己独特的个性和喜好!在我们的校园,我们尊重每一位幼儿,创设温暖、热情、能够参与其中的华语学习经历,让孩子们在体验、感知、交往中快乐学习华语,建构认知,获得积极和有意义的华语学习经验。教育从一粒种子开始,让我们的孩子在 Viv's Schoolhouse 丰富的学习环境中、在欢乐中、在自信中吸取养分,喜爱上华语,成为独立、自信、积极、快乐和具有责任心的人。
张老师含有幼儿保育和教育 - 教学文凭。